A New Except From The Inn of Fallen Leaves


Akiyama sat in the refurbished main meeting hall of the inn, waiting for the waki-honjin's manager. He looked at the room with disinterest and occasionally chuckled to himself when he spotted the ineffectual, but valiant, efforts to improve the hall. The room, no doubt better than its state before Cho started his work, still didn't measure up to the standards required for a daimyo's visit. These bumpkins have no idea of the real samurai world anymore than we have an idea of theirs, he thought.

Akiyama turned when he thought he heard the waki-honjin's steps, but instead saw a woman on her knees as she slid the shoji open.

"Ah, Cho's beautiful woman. Your name is Miyo," he said, smiling and turning on his knees toward her.

Miyo entered the room carrying a tea tray, kneeled again to close the door, then stood and delivered the tray, placing it in front of Akiyama. She poured the tea, placed the bowl in front of the samurai and said, "The manager will be here to join you shortly. He asks your patience for a few moments longer." When she stood to leave, Akiyama stopped her by reaching over his bowl and grabbing her wrist.

"Please, stay with me until he comes."

She raised her eyes, which had instinctively gone to her wrist, and met his directly. Spotting his defect, she looked down and returned to her kneeling position. He continued to hold her wrist while staring at her face. He smiled, waiting for her to react. She looked at him again, this time with a question in her eyes.

"Your man seems to have done a good job with the room. The daimyo will be pleased," Akiyama said.

Miyo slowly scanned the room. She hadn't been in it since Cho had started his work. When she finished looking at her surroundings, she returned her gaze to the samurai who hadn't taken his eyes off her. She nodded to him, then lifted her arm, freeing it from his grip and using it to pan the room. "All thanks to you."

"No, all thanks to the Mito clan. You and the others will always remember what the Mito did for you." He paused a few seconds. "For you in particular I would like to do more. I can arrange for a better position for you in Edo. Would you like that?"

"Why would you offer a maid from a waki-honjin a position in Edo? Surely there are daughters of lowly samurai more suitable for such positions. But then, the position you would offer a maid from a waki-honjin would be too low for a samurai daughter."

"Hmm, aside from that, I would like you to come with me. Maybe I'll just rent a place for you to live so I can come to you from time to time."

"You are too generous. I don't deserve such an offer and could never accept."

"You are a samurai's woman now, a broken-down samurai, but you could be a real samurai's woman if you choose."

"Cho has always been kind and honest with me. Lately he has returned to his previous considerate ways. Though your offer is generous it is above my station."

"I could just ask the waki-honjin for you."

"You wouldn't get much."

"I think I would be getting a lot more than just the woman of a broken-down samurai."

"You would get only the body of a maid who knows nothing and has little expectation for life."

"Little expectation now, but with me, you will have experiences making you wish to find out more about how good life can be. Come with me and you'll see."

"You can continue to ask but my worthiness will not rise." She tilted her head to one side and pursed her lips. "I'll get you more tea, the water has become cold."

As she left the waki-honjin arrived. In her haste to leave, she left the shoji open, so Yokouchi closed it himself. It slid on its rails a little too hard, slamming into the opposite side shoji and gliding back so that it was slightly open. He closed it completely while laughing at his clumsiness.

"Ha. Akiyama sama, I'm glad you are here. We have a problem and if I'd known you would be here I wouldn't have sent Cho to see you in Edo."

"What?" Akiyama said.

"It's the entertainments for the daimyo. I heard somewhere that he loves poetry contests so I checked with all the inns and none has suitable ink stones …"

"Not that," Akiyama said, cutting him off. "What do you mean you sent Cho to Edo?"

Yokouchi sat back, a little shocked at being interrupted. "That's what I'm trying to tell you. The ink stones the other inns possess are inferior and …"

"Wait," Akiyama interrupted him again. "Cho, just tell me about Cho. You sent him to Edo to see me. Yes or no?"

Yokouchi sat back, out of fear this time. "Yes, but for good reason. And don't worry about wasting Cho's time. It's fine, as you can see, he's finished the room."

"When did he go?"

"Do you like the room?"

"When?" Akiyama raised his voice slightly.

Yokouchi flustered, "I don't know, days ago."

"How many?"

"Let me think," he said, but he couldn't think because he saw that Akiyama was beginning to rise. He just blurted out a number. "Four, four days ago."

Akiyama stood in thought. Yokouchi, the inn, Miyo, nothing was important now except what Cho did in Edo.

Cho had slept the night before on uneven ground. His neck and back felt stiff as he walked down the final slope from Miyota to Otai. The path took him along the edge of a deep ravine, overgrown with thick grass and tall cedars. A few maples and zelkova trees reached out of the steep crevice. The cool breeze felt good to Cho, as did the familiar smoky odor of the farmers' burning the previous year's leftover straw. He knew home was near. He thought he heard the snap of branches coming from the ravine and stopped to listen for the sound again, but hearing nothing more he continued walking toward Otai. During his entire trip returning from Edo, he had tried to make sense of what Akiyama could be up to.

Cho remembered that Akiyama wore the hakama and jacket with the Mito crest, but now knew he was no longer a member of the clan. He gave a large amount of gold to the waki-honjin to make the place respectable for the daimyo with whom he only had a sentimental attachment. Cho wished that he'd confirmed with the Mito that the daimyo intended to come to Fallen Leaves and kicked himself for not doing so. It seemed unlikely now, especially after he checked with Denzo in Oiwake to see if the daimyo's travels plans had been registered and discovered that there were no entries indicating that the daimyo intended to travel on the Nakasendo. Hearing this he had asked if there were entries for a samurai named Akiyama traveling through the checkpoint and Denzo confirmed that the name hadn't appeared in any of the station's ledgers.

Cho hadn't told Denzo what he'd learned in Edo. He thought it better to get an explanation from Akiyama, whoever he was, than for him to try and figure it out on his own.

Approaching the shallow end of the ravine, Cho again heard the sound of snapping branches. This time a man, his head covered by a white cloth that tied under his nose to hide his face, jumped from the brush. More branches broke and the glint of the man's sword appeared as he drew it from its sheath. As the man pulled his sword back to begin his strike, Cho heard another voice scream, "Matte, wait …," then Cho stepped closer to the man, inside the arc of his swing. He grabbed the man's sword arm and reached for his shoulder as the man brought up his fist and struck Cho high on the side of his head. Cho fell, releasing his grip on the man's arm. He rolled away from the man, but before he could stand and draw his own sword, he was tackled and thrown back to the ground. The man was now on the ground next to Cho, his hand holding his sword. Cho tried to roll onto the man's hand, but before he could pin it down, the man whipped it away, stood up, and backed up to the edge of the ravine. Cho quickly rose and pulled his sword, ready to fight.

Both men heard the sounds of the third man's footsteps and turned in his direction. When Cho turned again toward his attacker, the man disappeared into the trees and Cho could hear the noise of snapping limbs as his attacker ran away.

He turned his attention to the man hurrying along the side of the ravine. As the person came closer, Cho strained his eyes in the dimming light and then jerked back, stunned as he recognized Akiyama.

"Cho. Konbanwa, good evening."

"Konbanwa."

"Are you okay? Were you fighting that man?"

"Yes, he attacked me from the woods. You must have seen him attack."

"No."

"But you yelled, you yelled, 'Wait.'"

"No, I think you're mistaken."

Cho squinted, then looked back at the ravine. He shook his head and said, "Why are you here?"

"I've just come from the inn. I was looking for you. I see you have finished the room and done a fine job."

"Hmm."

"They told me you had gone to see me in Edo. Sorry I wasn't there. What did you want?"

"Wait, let me sit down." Cho drew quick deep breaths. "The waki-honjin didn't tell you?"

"I only talked to him briefly. I had to leave so he didn't have a chance to tell me. What did they tell you in Edo?"

Cho hesitated. Again he heard rustling in the bushes behind him. He sensed that Akiyama was feeling him out, trying to find out if Cho knew he was a fraud. He's not alone, Cho thought, and he doesn't want to give up on his plan right now, so it's best to pretend I have no suspicions.

"The waki-honjin wants to buy ink stones in case your Lord should want a poetry writing contest while he's staying at our inn. I went to ask you for a few more ryo, but the guards at the mansion wouldn't even listen to my request. They told me to be quiet and leave or they'd beat me and have me arrested."

"Looking like that I can understand why. Once a samurai moves out to the country and starts to drink, it seems they forget what is expected of them. How many ryo does the waki-honjin want?"

"He said to ask for five ryo."

"Five?"

"Yes." Cho nodded, as if embarrassed to ask, "And he'll be mad at me if I come home without any more gold."

"Here." Akiyama handed Cho three ryo. "That should do. You country people don't have to pay as much for ink stones."

"Thank you."

"Make sure they get to the waki-honjin."

"I will." Cho burned at the nerve of the imposter implying he was a thief.

Confusion overwhelmed Cho. He didn't know what to expect from anything or anyone. Arriving at the inn, he wondered why Akiyama had been waiting for him in the woods. Was he lying in wait to ambush me, willing to kill me in order to make sure whatever he was planning would be carried out?

Miyo entered the room where Cho was sitting and broke his solitude. She greeted him. She hadn't spoken a word to him in weeks and now she bowed and told him she would prepare his bath. At the mention of the word, Cho began to shed the stress of his long and confusing trip. The events of the last hour drifted away, but he feared they would never disappear.

Cho walked to the bath, stripped, then sat on a small stool, enjoying the smell of wet cedar. Miyo poured buckets of warmed water over his head and body and then began to scrub his back. What is going on? he thought.

He lowered himself slowly onto the floating wooden furo cap, sinking into the hot water and laying his head back on the edge of the tub to let the heat draw out the stiffness and fatigue from his muscles, from his bones. The scent of the moist earth from the ground beside the tub seeped into his sinuses, calming his nerves. He closed his eyes, his mind finally empty, and lost track of time.

A hand caressed his cheek. Cho opened his eyes and Miyo stared back at him.

"I don't think a small flask of saké will do you any harm, do you?" she asked, pointing at the tray she had brought.

"Thank you, but I told you the night I brought you tea that I had stopped drinking. I meant it."

Miyo bowed, then poured saké from the flask into the small saucer and drank the saké. She picked up the tray and, as she left, she told Cho she had saved a meal for him in the kitchen.

Relaxed from the bath, Cho took his time eating the grilled unagi, river eels with miso on a bowl of rice, undoubtedly, he thought, the best food he'd eaten in five days. As he ate, he wondered what Akiyama was up to, why Miyo was being so welcoming to him, and what he was going to do.

The food restored Cho's energy. Surely this renewed energy and sleeping in his own bed would allow him to think straight. After rinsing his bowl with hot water and drinking the mild broth, he returned his bowl to a shelf and climbed the stairs to his room.

As the shoji door slid open, Cho saw Miyo bowing in greeting. Her head was low to the floor and a tray with tea utensils was placed before her. Only after he knelt in front of her on the opposite side of the tray did she raise to face him.

"I've wanted more help from you since we came to Fallen Leaves. I received it when we first arrived and then it went away and you became quiet and distant. Recently, I see that you have returned. I've watched you working hard for the inn, fixing the meeting room, protecting the guests and breaking up quarrels. I appreciate that you have stopped drinking and I saw by your refusal tonight that you are serious about giving up the saké. By bathing more often you have made our bedroom more comfortable for me. I don't know why you changed or why you changed back and I won't ask for an explanation, I am only happy that you are Cho again.

"I have often thought of the nights we sat and talked in this room, sometimes we just sat and listened to the noise of chirping insects. It reminded me of the times we did the same while waiting to find sleep on the bank of a river. Tonight I would like to sit with you and enjoy the sound of the insects as they sleep."

Miyo bent slightly to pick up the tea jar and dispensed a measured amount of green powder into one of the bowls, then placed it on the tray in front of her. Taking the bamboo ladle, she lifted the lid of the hot water jar and dipped out a ladle of water, pouring half into the bowl. After replacing the remaining water and the bamboo ladle she whisked the tea into a pale green froth, placed the whisk on its end, and picked up the bowl in hands held out slightly extended. Slowly she rotated the bowl a quarter turn and placed it in front of Cho who had watched her actions, his heart beating a strong and even rhythm.

"Dozo." Miyo pointed at the bowl with an open hand.

Cho made no move for the bowl but watched Miyo as she prepared another bowl of tea. When she finished, she raised the bowl to her lips, but before drinking she looked over the rim at Cho. He met her eyes and held them with a long, soft, thankful gaze, then reached for his bowl, placing it on his palm, and looking closely at its decorative features. He turned the bowl, feeling the texture of the clay, and only after fully reviewing the bowl that Miyo chose for their tea did he raise the bowl to his lips, sharing with her the tea she had prepared for them.


Excerpt From - The Inn of Fallen Leaves

After brushing the grass off his rough working kimono the best he could, Cho walked to the Inn's main entrance, oblivious to the leaves that lay in the square of packed earth before the opened doors, leaves he hadn't swept earlier in the day. Kicking off his straw sandals, he noticed that his tabi socks were filthy, so he took them off, tucked them into his sleeve, and stepped up onto the glossy wooden floor. To his right, the inn's main room, where most travelers congregated and took their meals, was empty. The tatami mats worn, some fraying at their edges. The irori, or central hearth, dormant, the previous night's ashes removed and fresh kindling stacked, ready to make fire again.

The odor of daikon simmering in shoyu and mirin drifted from the kitchen through the halls. It mixed with the smell of fried fish skin. Perhaps some of the saba he had received that morning would be part of the staff's lunch? He could imagine the firm stewed daikon in his mouth and could almost taste the sweet shoyu that would be drizzled over the fish during the last stage of frying. And of course the rice. He loved the rice of his home province, Tosa, but the cook in Otai worked magic upon the grain, rendering tight pearls that created a feeling of smooth
resistance on Cho's teeth.

Cho faced a set of stairs that led to the sleeping area and he could hear Miyo readying the rooms for tonight's guests. He remembered
that many times during the previous night she had firmly planted her elbows in his ribs as he tried to be close to her, but her reasons for keeping him at a distance escaped him.

He walked through the main room to a hallway made of dark wood, its raised grain collecting dust, making it abrasive to the touch. His footsteps sounded on the floorboards as he turned to go to the owner's room. Cho wished to talk a little more before going after the mice.

Approaching the room, he heard a stranger's voice. He slowed, then crouched to his knees before moving into view at the room's entrance. "Sumimasen," Cho said while bowing to those inside the room. "Excuse me."

The strange voice inside stopped.

Then the owner spoke. "Baka, why didn't you tell me this gentleman was waiting for me?"

Cho kept his head down and with agitation in his voice said, "I didn't know."

"This is the houseman, Cho,"the owner said to the samurai sitting across from him on a small flat cushion."Should you choose our inn for the upcoming visit, this man will be making the improvements to the main hall."

Cho looked at the samurai in profile. The man sat still and erect with squared shoulders. He wore wide, gray hakama pants and a dark blue jacket with the Mito family crest displayed on the sleeves. Two swords protruded from his left hip, the expensive swords of a high-level samurai. The saya, the scabbard that held the swords, was black-lacquered with long, thin dragons of gold inlay with a gold-tipped bottom, and the matching hilts had silk wrapping over shining gold menuki medallions. The top caps and bottom tsubas were polished brass.

The samurai ignored Cho, who watched the visitor a second longer before stating, "Itashima Chobei."

With Cho announcing a family name and then a given name, the samurai turned his head. He stared briefly, then turned back and, looking at the owner, spoke to Cho, "You are a samurai. Where are your swords?"

"I don't need them, uh, during the day, so I don't carry them," he replied to the unexpected question.

The samurai stood, then kneeled in front of Cho. He looked directly at Cho and Cho challenged his stare. The samurai's expressionless face remained still, willing to accept the challenge. Cho noticed the man's smooth skin, tanned from being outdoors. His hair, though tied back evenly, hadn't been combed or oiled. The smell of camellia oil wasn't present. His mouth, a thin line and slight of smile, sat below a long straight nose that was perfectly centered in his round face. His eyes were clear, but his left eye displayed a flaw. A small, black, quarter-moon shaped slice of the pupil had slipped out into the surrounding gray iris.

The owner's nervousness at the samurai's staredown caused him to speak. "The lazy idiot is right. He doesn't need the swords for what he does around here."

The visiting samurai closed his eyes for a moment. Cho watched him work his jaw muscles. When he opened his eyes, he stared at the
floor and said to Cho, "A samurai always needs his swords. You know that."

"Not him," the owner said, "there's not much samurai left in him."

Snapping his head toward the owner, the samurai boomed, "Who are you to make comments about any samurai?" He then held his hand up, palm toward the owner so the owner would not answer.

Still looking at the owner he said to Cho, "That's why you need your swords. If you had them you could have cut him. Why do you take that from a merchant?"

Cho watched as the owner paled at the thought of being slashed by a sword. This conversation had turned in an uncomfortable direction - from the possible visit of a high-ranking samurai and the money such a visit would bring, to the threat of being cut by an oiled steel blade. Seeing Cho looking at him, the owner giggled nervously.

"I have no need to cut him, because he's right," Cho said.

"You see," the owner said, "he agrees with me. I should beat him for the poor work he does."

The samurai grabbed the handle of his sword. Cho heard the clink of the tsuba being released from the saya, signaling that the sword was about to be drawn. The samurai pivoted on his knees then stepped toward the owner, his foot slapping the floor hard. As the grainy shine of the pampered steel blade appeared, Cho heard the grinding chime of metal on metal.

The samurai began to rise, but Cho leaned forward bringing his left leg out from under his body. Down on one knee, he grabbed the samurai by the wrist of his sword hand, preventing him from drawing his blade. Cho's other hand grabbed the samurai's nearest arm, digging his thumb and middle finger into the tendons above the arm's elbow and pinching them against the bone. He could see slight pain register on the samurai's face as the samurai turned back toward him, looking him first in the eye, then down at Cho's hand pinching his elbow. Cho saw that the samurai knew how much pain could still be administered and that he was unable to prevent this pain or continue removing his sword.

"Please," Cho said with a soft voice, "the master is a good man. He took me in when I was in a hopeless state and provides me with food and a place to sleep. I do household chores that I am happy to do and I wear my swords at night so the guests feel obliged to behave. He has no heir, so if you kill him there is no one to take over the inn and I will be back to being hopeless.

"Most samurai would not live this way, but my life here is better than the life many samurai live while trying to survive. You may think
this life too simple for a samurai, but I have all that I need to be comfortable, saké, fish, vegetables, and news, all thanks to the merchants
traveling on the highway. I appreciate what I have here and this man has given it to me."

The samurai jerked a quick nod then slowly moved his eyes from Cho's face and stared at Cho's hand. Cho released his grip, removing his hand from the samurai's elbow, and heard the sound of the samurai's sword return to its saya.

The samurai stood and walked toward the owner, who involuntarily leaned away from him. Taking gold from his sleeve, the samurai tossed ten ryo onto the floor in front of the cowering owner.

"Fix up the large meeting room. If it's good enough, I will recommend that the lord stay in your inn. I'll be back in a week."

He turned and quickly walked over to Cho, then stopped, gave a shallow bow, and marched out the door.

Cho watched the owner rake up the gold. His color had returned. For him, gold could fix all ills.

When he finished gathering the surprising new treasure, he looked at Cho as if noticing him for the first time.

"Baka. Go kill the mice in the shed. How many times do I have to tell you? Have you met the saké merchant yet?"

Without waiting for a reply, the owner stood and rushed out the door with the gold, headed for his lock box in the back office.

Buy Now From Amazon - Also available in Kindle Format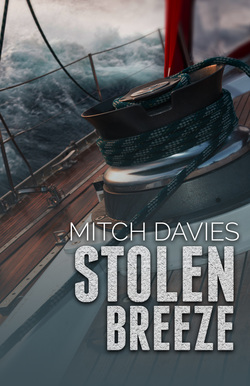 Excerpt From - Stolen Breeze
Prologue
After a day of filthy work at the marina, Ben Beck stopped at the fish-and-chip shop he'd become addicted to. With a six-pack in one grimy hand and an order of halibut and fries with an extra piece of fish in the other, he was all set for his favorite dinner. He'd frequented the shop almost every night since he discovered it on his way to the run-down motel located within walking distance of his new job. The greasy, fish smell that filled his room made him smile, and told him he was as close to a home as he could get right now.
He turned on the black-and-white television set and popped open a can of beer. On the end of the bed he spread the pile of brochures for a local amusement park—he'd taken them from the stand in the motel lobby—pulled the contents of his meal from the bag, and placed the grey cardboard cartons on the brochures. The first bite of fish burned his mouth, forcing him to juggle the meat lightly on his tongue while huffing, mouth wide open, to remove the heat. His urgent attempt to cool his burning tongue created a loud panting noise that prevented him from hearing the doorknob turn. The sudden change in air temperature caused him to turn toward the open door.
A tall, dark-haired man stood blocking the opening.
Ben forgot about the tongue-burning fish in his mouth and stared at the odd but familiar-looking man. When he realized who stared back at him, he spat the fish out onto the brown, grunge-stained carpet. "Oh shit. Carl?"
Carl stepped into the room as another man rolled around the wall into the room and sidestepped to Carl's left.
"Duane?" Ben said.
Duane pointed a gun at Ben as Carl slowly reached for the edge of the door and closed it. Both men wore dark, baggy clothing.
"How did you guys find me here?" Ben asked.
"We never lost you, Ben. We just couldn't approach you until the FBI agents decided to leave."
"FBI agents?"
"Don't worry, they're gone now." Carl smiled his big white smile, looking more like the happy, confident man Ben remembered. "You took something from me, Ben."
"I didn't mean to knock him overboard. I didn't even know I'd hit him," Ben said.
"Not Rudy… Fuck him. He can soak in the cold watery hell you sunk him in. That prick was blackmailing me anyway." The smile still glowed. "Where's Miss Malloy?"
"That I truly don't know. I left her outside the airport in Tahiti."
Carl said, "Duane told me you spent her last night onboard in her cabin. He also told me the two of you got a little greedy. You stole all my money, then you took the little bit Duane and Rudy had stashed as well. Not very nice, Ben. The two of you have really pissed me off."
"I gave her Rudy's, Duane's, and my money. I don't know anything about
your
money."
Carl stepped back and leaned against the door. He tilted his head forward and stared at the floor, working the muscles in his lips. When he finally looked up again he said, "I need them both back, Ben. You got one chance. Tell me now; help me out. You know I'm going to find her anyway, so if you help me, you keep on living."
"What?" At the sound of a threat Ben began to think about how he was going to get out of the room.
"Normally Rudy would do this sort of thing, but thanks to you he's not available. And, with the kind of heat you've placed on me, none of my
other contacts are taking my calls. You've forced me to do this myself. Where is she, Ben?" Carl's voice stayed calm.
"Carl, I don't…" In mid-sentence Ben swiped backhand at the food that lay in front of him, sending it in the direction of Duane, who was holding the gun. The large fish chunks flew off level with the bed and landed on the floor, but the fries got airborne and shot toward Duane. He stood his ground, letting two or three of them hit him in the chest, but otherwise didn't react to the attempted distraction.
Ben rolled across the bed away from them and landed on the floor. He listened to see which direction they had moved.
"Get up, you idiot," Carl said.
Ben looked around for something else to throw but found nothing. Slowly he stood, to see Carl and Duane standing in the same place. He moved nearer the table bolted to the wall next to the bed. His hand shot out and grabbed the phone and he threw it at Duane. The phone's cord stopped it halfway to the target; the receiver continued on its trajectory, missed its mark and landed with a thud. It scraped along the floor as the outstretched cord drew in its coils.
Carl and Duane stood staring at Ben. "This is ridiculous. Are you done?" Carl said.
"No." Ben turned his back and sat down on the bed. As soon as his haunches touched the mattress, he grabbed the square, brown glass ashtray,
turned and sent it spinning at Duane's head. Duane saw it coming and turned to his left, but too late. A corner of the ashtray struck the cartilage near the back of his right ear, cutting through it. His own momentum, the impact of the ashtray, and the immediate burning sensation caused him to hit the wall and drop to his knees. Ben followed the ashtray over the bed. As Duane reached up to protect his ear with his empty hand, Ben hit him in the jaw, crashing his head hard into the wall. Duane fell unconscious to the floor. Ben reached for the gun as Carl landed on his back and together they landed on top of Duane. Ignoring Carl's grasping hands, Ben concentrated on getting a firm grip on the pistol. When he felt his hand close tight around its grip, he tensed his shoulders and neck, then labored to stand under the tall man's weight. Carl's fingers dug into Ben's soulder; his other arm stretched across Ben's face, twisting his head back and to the side. Ben pushed back hard toward the wall, slamming Carl into the thermostat box. He heard Carl's breath jet from his lungs with a deep grunt. He took a quick step away from the wall, braced his leg, and slammed back again. When he heard Carl gasping to refill his lungs, he jabbed back with his elbow and struck him in the soft flesh just below his ribs. Carl slid off his back, landing on his side when he hit the floor. He rolled to look up wild-eyed at Ben, his mouth open but unable to draw in air.
Carl slapped the floor and pulled his knees into his abdomen while making short sucking noises. Ben offered no help.
"You have to believe me, Carl, I don't know where she is and I don't know anything about your money. There's nothing I can help
you with." He opened the door, ran down the metal stairs to the parking lot and turned toward the street.
When he arrived at the sidewalk he stopped and looked both ways. The marina and other places he was familiar with were to the left, so he turned right and ran as fast as he could. When his lungs started to burn, he hid in a dark corner at the side of a building.
He realized he had been running with the gun still in his hand. He tucked it into his pants and bent over to catch his breath, but the gun poked at his stomach. He pulled it out and decided to get rid of it, knowing he would never use it. He fumbled to get the clip out, then went to the back of the building and threw the gun in a trash bin. He removed the bullets from the clip, then threw them and the clip over the fence into an open lot.
He had nowhere to go, so he climbed the fence and rested against the wall. Tall grass and a stack of torn mattresses shielded him from the street. He felt he should keep moving, but he stayed there until morning.
Published by Pensmith
Buy from
Amazon
- also available in Kindle format at the same link.
Buy from
Barnes and Noble
- also available in nook format at the same link.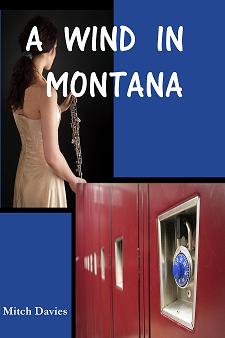 Excerpt from - A Wind In Montana
2011 Bronze Medal Winner in the eLit Awards for Juvenile/Young Adult Fiction
As a group they stood, speaking short, clipped sentences, trying to sound casual and often letting their attention wander. The short time left before
Victoria
's plane would depart moved with the speed of an old dog being put out in the rain. Rory met
Victoria
's mother for the first time ever, and, for the first time as
Victoria
's boyfriend, met Mr. Beach.
Due to their concerns over
Victoria
's current attitude toward music, her parents were happy to see her going back to the music camp. But the small degree of anger they harbored toward Rory did dampen their happiness a little. They weren't sure how they should treat him, since his influence might turn their daughter away from pursuing a career in music. And hadn't he himself turned away from his band activities only a year before? They blamed him for
Victoria
's change in behavior, which compounded the anger. She stayed out late and recently had begun to argue with them. They didn't object to Rory personally or to her having a boyfriend, they objected to her unexpected conduct now that she had one.
Rory had no mixed emotions; his mood could go no lower. Every aspect of this meeting held the potential for bad results. Rory tried to avoid meeting anyone's parents; he equated meeting his girlfriend's parents to social and emotional torture. On top of that, this was goodbye. He wouldn't see or touch
Victoria
for six weeks, and he had to share their last moments together with her whole family. But his misery was not yet complete; Werner Brock waited for
Victoria
in
San Diego
. This turbulent fact stirred the emotional calm Rory sought. He remembered
Gary
's comment about Werner being after his girl, and agonized over the afternoons Werner would spend with
Victoria
.
Six weeks of being without her while Werner saw her every day gave Rory a strong and lasting feeling of despair, even though she hadn't left yet. The not-too-much older man, who appeared to take a stronger than normal interest in
Victoria
, would attempt to impress her for six long weeks. How to survive, knowing that circumstance?
His memory of their intimacy bolstered his spirits; a soothing hum resonated throughout his body when he remembered the feel and scent of her. The mere thought of knowing they had been lovers satisfied him to a point where he felt he could live through any ordeal, good or bad. Since their first time, they had wanted the experience again but were both too shy to make overtures. The perfect opportunity for privacy hadn't presented itself again, so neither had initiated any sexual contact.
Until last night. They knew
Victoria
would leave the next day. They knew they needed to create their own opportunity.
So they went out for a drive and found a quiet place to park, then partially removed their clothing in the back seat of the car. Due to a lack of space, they experimented with a few different positions and had difficulty accomplishing what they intended to do. But nothing would defeat their sexual hunger. The sitting position allowed them to overcome their environment's limitations and achieve the desired contact. They made love face to face, seeing the meaning of their act while feeling the physical comfort of the exchange they made.
In the airport, they wanted to look at each other, to see the eyes they had gazed into during their lovemaking, and to acknowledge what now existed between them. But they feared her parents would know what their glances meant if they maintained eye contact for too long.
Victoria
's younger sister and brother teased Rory about being
Victoria
's boyfriend. The lover's skin color changed with each surge of embarrassment, and they kept their distance from each other. All he wanted to settle his nerves was to hold
Victoria
in his arms until she boarded the plane. He knew he wanted to kiss her goodbye, but with Mr. Beach watching, he feared he would chicken out and only say the words. The Beaches stared at him like birds of prey watch their hunting grounds. Would he cower like a rodent and not make a move that might attract the birds' attention?
Mr. Beach had greeted Rory in a friendly manner and shook his hand when he first arrived. Since then, he had stood back from the rest of the family and acted as guardian father. Rory realized his presence altered the way the family would say goodbye to one another as much as they altered the way he and Victoria would say goodbye.
Mrs. Beach tried to start a conversation with Rory. While they talked, the younger brother interrupted and asked if Rory would kiss
Victoria
like he did when they sat in his car, then hid behind his mother and giggled. Rory ignored the question and continued his discussion about his summer job.
Victoria
smiled at her pesky little brother while laughing inside at Rory's change in flesh tone during the little boy's giggles.
The claustrophobic stress of the situation increased every second and he decided it would be nice to get away. An early exit seemed in order, even though it meant leaving
Victoria
.
They had discussed how they would communicate over the duration of the camp and didn't need to remind themselves of their plan. Rory caught
Victoria
's eye and gave her a brief nod to indicate his departure. He turned to Mr. Beach and said, "Well, I should leave so you can all say goodbye to each other. It was nice to meet you Mrs. Beach, Mr. Beach." He then looked down at the sister and brother, reaching out pretending to pinch the young boy and said, "I suppose I'll see you two scalawags again sometime." The young brother hid behind his mother again.
Rory then turned to look at Victoria, who stood frozen with her arms by her side, waiting to see how Rory would approach her. He stepped to her and stopped to look at the face he knew he would truly miss over the next too many weeks. He smiled, then slowly passed the back of his hand down her cheek; then he touched her hair, cupping the side of her head softly. He moved closer, put his arms around her and lowered his head to kiss her. He held the kiss, broke it momentarily to look in her eyes, then kissed her briefly once more. He stepped back and still looking in her eyes said, "I'll see you in six weeks."
"See ya," she said back in a cracked voice. She swallowed to relieve her constricted throat.
Rory turned and nodded again to her parents, who both stood solemnly still. His nod conveyed the same respectful meaning cowboys intended when they touched their hat brims. He spied the young brother peeking out from behind his mother and wearing a satisfied smile on his face. Rory wanted to wink but he controlled the instinct. Without another word, he turned and left the gate area. As he walked away, he believed everyone he passed could see the heart inside his chest trying to beat its way out through his ribcage.
Published by Pensmith
Buy from
Amazon
- also available in Kindle format at the same link.
Buy from
Barnes and Noble
also available in nook format at the same link.