---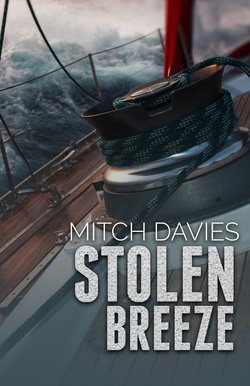 Stolen Breeze by Mitch Davies
If you don't know you're committing a crime, are you innocent?
All Ben Beck wants is to start over with a new opportunity. So when a millionaire business man offers him a position as a crew member on his yacht, Ben decides to throw himself in the middle of the ocean with a confusing group of strangers.
So what if he's never sailed before, the job opportunities in his home town didn't offer Hawaii and Tahiti. How could he pass up an offer that did?
Sailing to exotic locales as a crew member of the luxury yacht,
Aurawind
, and catering to rich clients willing to pay for a taste of Polynesia, sounded like a dream job, an unexpected windfall experience.
The gleam of sailing to the sun of the southern seas on a shining new yacht blinds his view of what lies ahead.
Not all the members of the operation carry the same glossy hope for the venture. The captain thinks Ben is going to be too much to handle; the other sailor in the crew gives Ben the creeps. After a confusing start to the journey, loaded with misinformation, Ben can't help but wonder if the other members of his crew are friends or enemies. Maybe it's time Ben had second thoughts.
No level of smooth sailing could prepare him for being attacked or having a gun pointed in his direction. From the idyllic life of charter sailing and Polynesian island hopping, to a life and death struggle on a tilting yacht deck at night, Ben navigates in hopes of salvaging his dream.
Will the crew, the sea, or the wind shred Ben's canvas?
Available now at
Barnes and Noble
- Also in nook Format
Available Now at
Amazon
- Also in Kindle Format
Now on Facebook - Click
here
to head over to Facebook and Like Stolen Breeze
---
Excerpt from, Stolen Breeze.
Prologue from

Stolen Breeze

After a day of filthy work at the marina, Ben Beck stopped at the fish-and-chip shop he'd become addicted to. With a six-pack in one grimy hand and an order of halibut and fries with an extra piece of fish in the other, he was all set for his favorite dinner. He'd frequented the shop almost every night since he discovered it on his way to the run-down motel located within walking distance of his new job. The greasy, fish smell that filled his room made him smile, and told him he was as close to a home as he could get right now.

He turned on the black-and-white television set and popped open a can of beer. On the end of the bed he spread the pile of brochures for a local amusement park—he'd taken them from the stand in the motel lobby—pulled the contents of his meal from the bag, and placed the grey cardboard cartons on the brochures. The first bite of fish burned his mouth, forcing him to juggle the meat lightly on his tongue while huffing, mouth wide open, to remove the heat. His urgent attempt to cool his burning tongue created a loud panting noise that prevented him from hearing the doorknob turn. The sudden change in air temperature caused him to turn toward the open door.

A tall, dark-haired man stood blocking the opening.

Ben forgot about the tongue-burning fish in his mouth and stared at the odd but familiar-looking man. When he realized who stared back at him, he spat the fish out onto the brown, grunge-stained carpet. "Oh shit. Carl?"

Carl stepped into the room as another man rolled around the wall into the room and sidestepped to Carl's left.

"Duane?" Ben said.

Duane pointed a gun at Ben as Carl slowly reached for the edge of the door and closed it. Both men wore dark, baggy clothing.

"How did you guys find me here?" Ben asked.

"We never lost you, Ben. We just couldn't approach you until the FBI agents decided to leave."

"FBI agents?"

"Don't worry, they're gone now." Carl smiled his big white smile, looking more like the happy, confident man Ben remembered. "You took something from me, Ben."

"I didn't mean to knock him overboard. I didn't even know I'd hit him," Ben said.

"Not Rudy… Fuck him. He can soak in the cold watery hell you sunk him in. That prick was blackmailing me anyway." The smile still glowed. "Where's Miss Malloy?"

"That I truly don't know. I left her outside the airport in Tahiti."

Carl said, "Duane told me you spent her last night onboard in her cabin. He also told me the two of you got a little greedy. You stole all my money, then you took the little bit Duane and Rudy had stashed as well. Not very nice, Ben. The two of you have really pissed me off."

"I gave her Rudy's, Duane's, and my money. I don't know anything about your money."

Carl stepped back and leaned against the door. He tilted his head forward and stared at the floor, working the muscles in his lips. When he finally looked up again he said, "I need them both back, Ben. You got one chance. Tell me now; help me out. You know I'm going to find her anyway, so if you help me, you keep on living."

"What?" At the sound of a threat Ben began to think about how he was going to get out of the room.

"Normally Rudy would do this sort of thing, but thanks to you he's not available. And, with the kind of heat you've placed on me, none of my other contacts are taking my calls. You've forced me to do this myself. Where is she, Ben?" Carl's voice stayed calm.

"Carl, I don't…" In mid-sentence Ben swiped backhand at the food that lay in front of him, sending it in the direction of Duane, who was holding the gun. The large fish chunks flew off level with the bed and landed on the floor, but the fries got airborne and shot toward Duane. He stood his ground, letting two or three of them hit him in the chest, but otherwise didn't react to the attempted distraction.

Ben rolled across the bed away from them and landed on the floor. He listened to see which direction they had moved.

"Get up, you idiot," Carl said.

Ben looked around for something else to throw but found nothing. Slowly he stood, to see Carl and Duane standing in the same place. He moved nearer the table bolted to the wall next to the bed. His hand shot out and grabbed the phone and he threw it at Duane. The phone's cord stopped it halfway to the target; the receiver continued on its trajectory, missed its mark and landed with a thud. It scraped along the floor as the outstretched cord drew in its coils.

Carl and Duane stood staring at Ben. "This is ridiculous. Are you done?" Carl said.

"No." Ben turned his back and sat down on the bed. As soon as his haunches touched the mattress, he grabbed the square, brown glass ashtray, turned and sent it spinning at Duane's head. Duane saw it coming and turned to his left, but too late. A corner of the ashtray struck the cartilage near the back of his right ear, cutting through it. His own momentum, the impact of the ashtray, and the immediate burning sensation caused him to hit the wall and drop to his knees. Ben followed the ashtray over the bed. As Duane reached up to protect his ear with his empty hand, Ben hit him in the jaw, crashing his head hard into the wall. Duane fell unconscious to the floor. Ben reached for the gun as Carl landed on his back and together they landed on top of Duane. Ignoring Carl's grasping hands, Ben concentrated on getting a firm grip on the pistol. When he felt his hand close tight around its grip, he tensed his shoulders and neck, then labored to stand under the tall man's weight. Carl's fingers dug into Ben's shoulder; his other arm stretched across Ben's face, twisting his head back and to the side. Ben pushed back hard toward the wall, slamming Carl into the thermostat box. He heard Carl's breath jet from his lungs with a deep grunt. He took a quick step away from the wall, braced his leg, and slammed back again. When he heard Carl gasping to refill his lungs, he jabbed back with his elbow and struck him in the soft flesh just below his ribs. Carl slid off his back, landing on his side when he hit the floor. He rolled to look up wild-eyed at Ben, his mouth open but unable to draw in air.

Carl slapped the floor and pulled his knees into his abdomen while making short sucking noises. Ben offered no help.

"You have to believe me, Carl, I don't know where she is and I don't know anything about your money. There's nothing I can help you with." He opened the door, ran down the metal stairs to the parking lot and turned toward the street.

When he arrived at the sidewalk he stopped and looked both ways. The marina and other places he was familiar with were to the left, so he turned right and ran as fast as he could. When his lungs started to burn, he hid in a dark corner at the side of a building.

He realized he had been running with the gun still in his hand. He tucked it into his pants and bent over to catch his breath, but the gun poked at his stomach. He pulled it out and decided to get rid of it, knowing he would never use it. He fumbled to get the clip out, then went to the back of the building and threw the gun in a trash bin. He removed the bullets from the clip, then threw them and the clip over the fence into an open lot.

He had nowhere to go, so he climbed the fence and rested against the wall. Tall grass and a stack of torn mattresses shielded him from the street. He felt he should keep moving, but he stayed there until morning
Also From Pensmith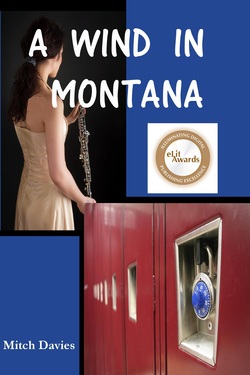 A Wind In Montana by Mitch Davies


2011 Bronze Medal Winner in the eLit Awards for Juvenile/Young Adult Fiction


Imagine being ambushed into taking the responsibility for directing your own future while still in high school. Each generation's youths must grow up faster than any generation before and it's never too early for them to start contemplating the future; to prepare, even just a little, for the obstacles it will place in their way.

Through it all there is a life to enjoy, your own life. Striking a balance between the carefree 'fun' and the down to earth 'getting-it-done' approach is a challenge. See how Rory Coleman and Victoria Beach take the challenge head on.
Teens may not want to take control of their futures but for some there is no choice. Adults may force them into that responsibility or restrict their ability to choose. Add that influence to the ripe learning phase that teenagers experience and they have the potential to do the right things, and sometimes the wrong.
Young Adults should find this story thought provoking since they may be experiencing some of what the main characters are going through. Adults who read this book can re-live a time that reminds them of a fun and happy high school experience or contemplate ways they could have made that time better.
A Wind In Montana is a book with young adults at its center but appealing to all ages.

Published by Pensmith

Hardcover ISBN 9780984390717:
www.amazon.com/Wind-Montana-Mitch-Davies/dp/0984390715/ref=ntt_at_ep_dpi_1
Paperback ISBN 9780984390700: www.amazon.com/Wind-Montana-Mitch-Davies/dp/0984390707/ref=tmm_pap_title_0

Currently Available in These Ebook Formats
Kindle Version:
www.amazon.com/A-Wind-In-Montana-ebook/dp/B003HNNIKQ/ref=tmm_kin_title_0?ie=UTF8&m=AG56TWVU5XWC2

Available in all Ebook formats at Smashwords: https://www.smashwords.com/books/view/25545

Use this discount code to buy any Ebook version at Smashwords for $2.99 . UA58C

Coming Soon to all Ebook retailers.

Free Ebook reader software so you can read Ebooks on your PC is available at -

For EPUB format - http://www.adobe.com/products/digitaleditions/

For Kindle format - http://www.amazon.com/gp/feature.html/ref=kcp_pc_mkt_lnd?docId=1000426311

Kindle for Mac - http://www.amazon.com/gp/feature.html/ref=kcp_mac_mkt_lnd?docId=1000464931

From Pacific Book Reviews ( April 2010 ) -


It was very impressive to have such an insightful and realistic view of the decisions and values of young adults so well written in this book. Rory's learning the ways of the world, having people's interest's conflict with his own plans – plans that aren't fully made yet unfolding in front of him – make for a very captivating storyline.
---